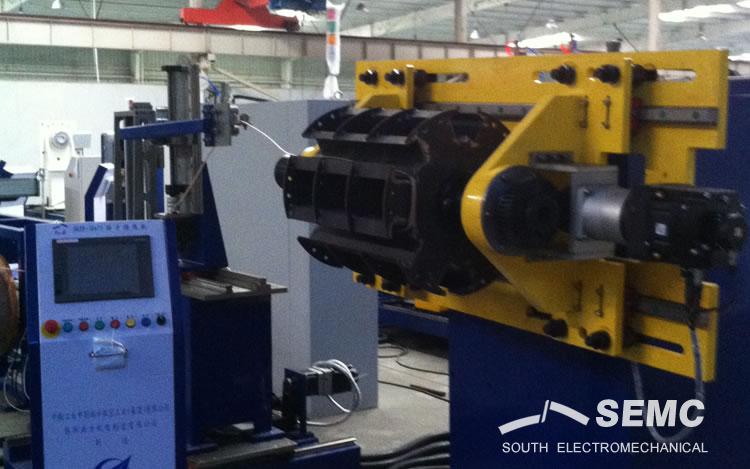 Rotor winding machine is suitable for winding of generator main rotor, which consists the rotor winding mechanism, cycloid mechanism, magnet wire bundling mechanism, magnet wire transfer device, control systems and safety devices. It is mainly for winding of 4 pole generator rotor.
The machine is provided with indexing means on the rotor winding device, for precision indexing of rotor pole. In addition to the clamping reliable, easy to operate rotor fixture, also equipped with a false axis that is convenient for rotor clamping and rotor indexing positioning.
Equipment cycloid mechanism controlled by servo motor, magnet wire can be arranged sequentially to ensure the wound magnetic coil surface to be smooth and tight.
Equipment specially equipped with two sets of payoff devices (available for enamelled round copper wire and flat copper wire), both equipped with magnetic brakes to provide constant tension, through radius detection and feedback, to maintain constant tension under different axle weight.
The equipment also has a fault alarm and automatic stop and safety protection devices, can effectively prevent machines or personnel accident.
Equipment comes with turns counter, the largest recording turns is 999.
At the end of winding of each magnetic pole, the rotor indexing, and then winding the second pole, and so on, to finish the whole rotor winding. The pole coil wound will be flat and tight.