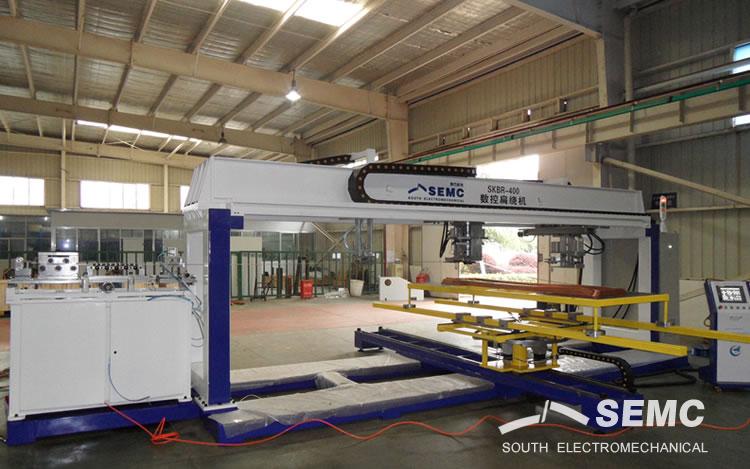 1. Introduction to the Machine
CNC flat coil winding machine of model SKBR-150 is a type of special equipment suitable for bar coil winding,independently developed and manufactured by our company and has been granted Certificates of Patent of Invention and Utility Model by the State Intellectual Property Office in 2011.
The machine mainly consists of pay-off rack, straightening system, cutting system, winding system, automatic parts collecting system, automatic cut off system, program controlled man-machine system and control system.


2. The machine has the following main features:
Digital control is used. The equipment is full automatic and eye-pleasing. The coils produced have clear and neat corners, narrow dimensional variation and high precision.


This machine has the function of winding various types of coils such as quadrilateral, polygon or turriform. All parameters can be set through the touch screen. Parameters like winding speed, coil size, coil turns can be set and stored separately according to the requirements.
The principal of this machine is different than the traditional die type coil winding machines, tooling for different coil size is no necessary. To change from one type of coil to another type, replacement may be needed only the upper and lower plate of the winding head, guide wheel and the stop plate.
The machine can be set to wind at clockwise or counter clockwise direction. The automatic cut off system can shear the bar at the designated position after winding the preset turns.
The unique CNC auto parts collecting system move automatically to coordinate the movement of the winding device, and collect the formed coils orderly.
The machine has automatic thickness control function. It can cut excessive margin before bending. Users can select and adjust the amount to be cut for meeting the coil requirement.
Automatic or jogging mode can be used. It also equipped with the functions of error warning, automatic shut down and safety protection, etc, to eliminate damages to the machine or personal injury while it is mis-operated.


The machine has online automatic test function to length and radius. It will automatically stop and send a warning sign once the measurement out of the set dimensions.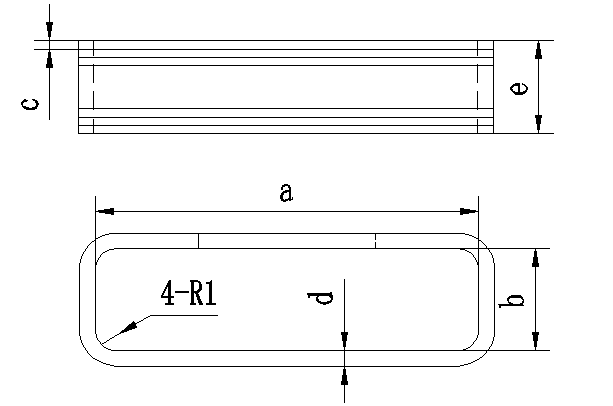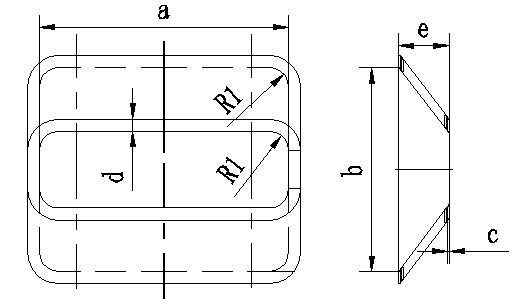 数控扁绕机设备型号model

适应线圈截面尺寸applicable coil section width d(mm)x thickness c(mm)

适应线圈高度最大尺寸

applicable max. coil height e(mm)

适应线圈长度尺寸

applicable coil length a(mm)

适应线圈宽度尺寸applicable coil width b(mm)

SKBR150X90

(15-60)x(2-6)

300

240-1500

90-350

SKBR200X90

(15-60)x(2-6)

300

240-2000

90-1000

SKBR300X90

(15-60)x(2-6)

300

240-3000

90-1100

SKBR400X90

(15-60)x(2-6)

300

240-4000

90-1200
| | |
| --- | --- |
| 项目item | 参数paras. |
| 扁绕半径flat coil winding radius R(mm) | R20~R60 |
| 铜排最大宽厚比flat copper wire max. width to thickness ratio | 15 |
| 铜排成形尺寸公差flat copper wire forming dimensional tolerance | 0~+2mm |
| 铜排绕制不整齐度flat copper wire winding not uniformity | ≤±2mm |
| 增厚控制thickening control | ≤0.3mm |
| 铜排R角精度copper wire R angle accuracy | 90°±0.2°、180°±0.2° |
| 线圈绕制时最大载重coil winding max.load | 240Kg |
| 铜排放线架最大载重copper wire pay-off rack max.load | 500Kg |