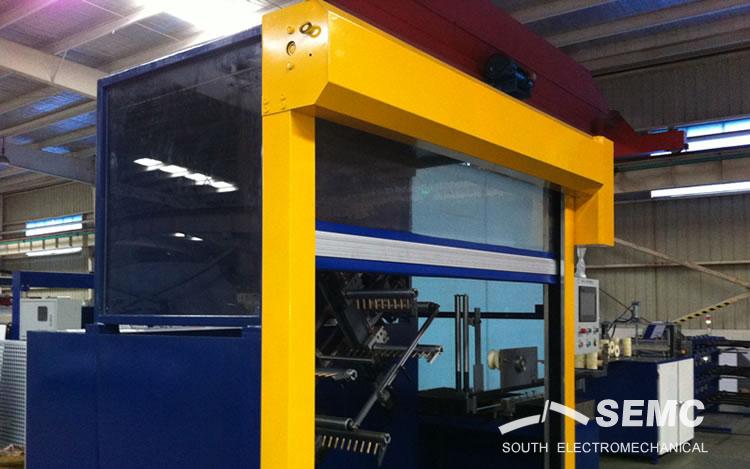 SKSR-10 CNC loose wire winding machine is suitable for stator coil winding of round enameled wire for Three-phase asynchronous motor. Two types of SKSR-10 full automatic and semi-automatic are available. It is independently developed by our company, and was granted a Certificate of Utility Patent by China Intellectual Property Office in 2012.
Features of the machine:
This equipment is different from the traditional round enameled wire winding machine. New designed combined-type winding tooling replace traditional method of separate die for each size of coil, so can save much of mould cost for the customers. Using the full-automatic looping machine to wind different specification coils, whose parameters such as straight part length, hypotenuse length, width, winding speed, etc. are input only through the touch screen according to coil drawing. Where in the full automatic version the winding tooling adjustment and retraction after winding are automatic performed by servo motors without manually intervention, and in the semi automatic version the tooling adjustment and retraction after winding are performed manually.
The machine is CNC controlled with elegant appearance. All coil winding parameters can be set, modified, saved through the touch screen and at most 100 groups of data can be stored.
The machine is equipped with tension control system. Tension can be adjusted according to process requirement. If a wire is broken or no wire on roller suddently, the sensors will detect then the machine will automatically stop and send out warning messages. With multiple pay-off rack covers, wires pass through ceramic tubes separately to ensure that each wire will be kept straight.
Winding direction can be set at clockwise or counter clockwise. When a coil is winded at preset turn, the tooling core will be locked automatically at the accuracy of ±5°. At the time, instead of traditional method, simply turn the rotatable coil die edge column, press tooling core releasing button, the coil can be unloaded conveniently which save off-line time and improve production efficiency.
Manual and automatic operation modes are provided. Automatic failure warning/stop and safety cover are also equipped with to prevent personal injury and/or mechanic damages caused by improper operation.
There are 2 models of this machine. Each machine will be equipped with semi or full automatic combined winding tooling to satisfy customer's various production requirement. The machines can run continuously, steady, automatically and safely with high production rate and operation convenience.

| | |
| --- | --- |
| 项目item | 参数paras. |
| | Model SKSR-10B(Q) as example |
| 线圈宽度W尺寸范围coil width W range | 130~600mm |
| 线圈直线边长度H尺寸范围coil straight edge length H range | 200~1000mm |
| 线圈端部A尺寸范围coil end size A range | 40~250mm |
| 线圈总长度尺寸范围coil total length range | 280~1500mm |
| 并绕根数范围parallel winding wire number | 1~50 |
| 线圈槽数coil slot number | 1~8 |
| 线径范围wire diameter range | 0.4~2mm |
| 线圈coil Ra size尺寸 | R15mm |
| 线圈coil Rb size尺寸 | R20,R25,R30mm |