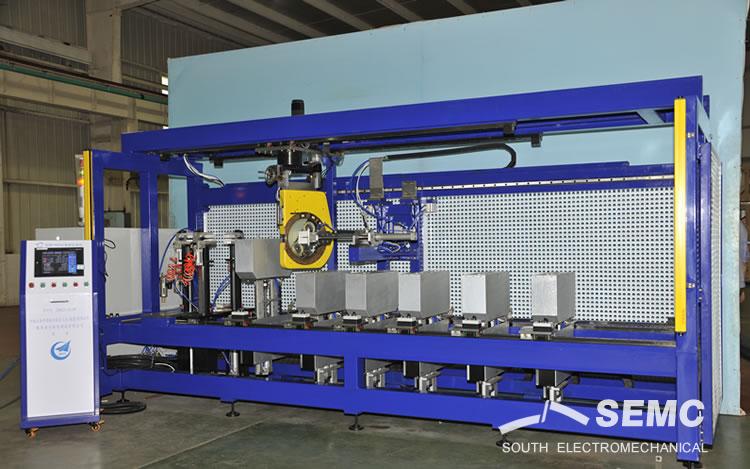 SKBD-200PB flat coil taping machine is to satisfy customer's need of taping before spreading, independently developed by our company. Thus to automatically tape the whole coil, including the nose ends. A number of independently developed proprietary technologies of our company have been used and has been granted a Certificate of Utility Model Patent by the State Intellectual Property Office.
The machine consists of body, guide rails, taping head, air clamp devices, servo driving system, and program control system. Multi axis control is adopted with high precision and smooth taping.
Parameters like coil length, taping speed for curve portion and straight portion, overlap rate for each layer, positions for each portion, taping sequence can be input from the touch screen. Taping tension is electric constant controlled. Double or single-tape and one direction or double-direction taping can be selected. Operation is simple and intuitive.
To operate, lay the race type coil on the position pre-adjusted air clamps, rape on the tapes, and press the start button. The machine will then start taping the curve portion on lead wire end automatically.
After finish taping of the curve portion on lead wire end, operator will treat the lead wires and press the start button. The machine will then perform taping for the rest portions of the coil. During taping, the machine will control the process according conjunction position with the curve portion on lead wire end, to satisfy lap requirement for each layer.
The machine equipped with both automatic and manual function. It can automatically find the taping track without teach-in procedure. It has manipulators grasping as anti-shock function of as well as multi-point safety protection arrangement.