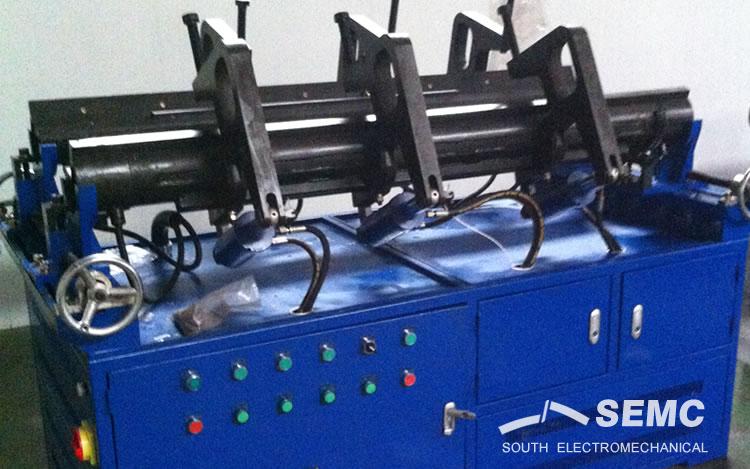 Application and main features
●The hot press machine unitizes temperature control, electric control and mold press. It consists of the body, the heating system, temperature control system, hydraulic clamping device, hydraulic and control system. Electric control boxes, pump stations, temperature controller provided in the housing, compact structure, the appearance of simple and practical. It is suitable for coil curing after forming.
● Working Mode: The coil is automatic clamped with hydraulic system. It is heated with electric tube, SCR and with Fuji controller to control the temperature. It automatically alarm when reach the setting time, automatic pre-press (low 1.2-1.5Mpa), automatic full pressure after 5-10 minutes (6MPA), maintain pressure at 5.6-6.2MPa. Temperature controller is set to switch on and off at ±2 ℃ of the set temperature. It has heating, pressure switch timer setting, display of pressure, temperature and alarm function
● Different from coil straight edge length, two types of XQRY-120 and XQRY-160 are available, and can design according to user requirements.

项目Item

参数Paras.




Model:XQRY-120

Model:XQRY-160

电加热功率electric heating power

10KW

12KW

工作温度范围working temperature range

160~180℃

160~180℃

最高温度Max.temperature

240℃

240℃

仪表控制温度精度误差instrument control temperature accuracy error

±2℃

±2℃

工件温度误差workpiece temperature error(within 1 meter)

±10℃

±10℃

液压系统工作压力范围hydraulic system working pressure range

3~6Mpa

3~6Mpa

液压压头数量hydraulic press head qty.

6

8

液压压头压力范围hydraulic press head pressure range

1000-2000 kgf

1000-2000 kgf

线圈单边压紧力范围coil single edge pressing force range (three press heads resultant force)

3000-6000kgf

4000-8000kgf

线圈开档W范围coil open mouth W field

190~650mm

200~1000mm

线圈直线边L3长度范围coil straight edge length L3 range

≤1200mm

≤1600mm

线圈最大截面coil max.section

32×65mm²

32×65mm²

模具总长mould total length

1650mm

2000mm

发热管长度heating tube length

1450mm

1850mm

有效发热区长度effective heating area length

1200mm

1700mm